Ultrasonic transmitters realise clean water for tomato growers
Frank Dekker (Dekker Glascultures) shares his experiences
Tholen - Since four months Frank Dekker of tomato nursery Dekker Glascultures uses ultrasonic transmitters in his basin
and silos for clean basin, drain and irrigation water. And to great satisfaction. The entire process is treated with USAF ultrasonic
transmitters from Ultramins.
"The purchase of this system was somewhat of a risk," says Frank, "because in addition to good and visible results from placements in basins, it is also important to have a good overview of the results.
little was known with regard to the treatment of drain and watering water."
"The main reason for purchasing this system is that it is a plug and play solution: plug it in and you don't have to worry about it.
to it anymore. In addition, I don't use chemicals in the water any more, which is of course a good thing."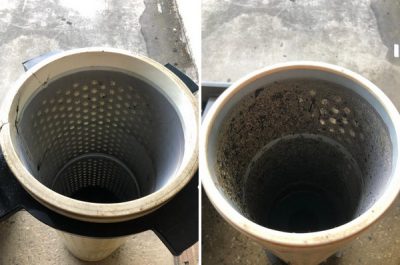 Basin
In the basin, which covers an area of 1,500 m2, a double USAF ultrasonic transmitter was chosen. This not only combats
algae also bacteria, fungi, viruses and the biofilm. The basin water is now clean and clear. Eurofins has taken various water samples
Frank testifies that the results are excellent. The ultrasonic transmitters in a basin are also cost-effective.
better alternative to a cover sheet.
Silos
Frank first used an algae cover on the silos. However, this had to be removed after weeds and reeds had grown over it.
by a crane, on which dust and other things were blown into the silo on stormy days.
Ultrasonic is not vulnerable and also actively fights pathogens and biofilm, which, of course, a tarpaulin does not do. The
mixing tank where drain water is added is now treated by 6 double USAF transmitters. Water samples are also taken here
with excellent results. The biofilm present was even completely broken down within 10 days. Eurofins analysed the water from the
mixing tank was subjected to a DNA multiscan and no fungi were found. With yet another test, clavibacter was also not found.
found.
Filter
Finally, the ultrasonic transmitters ensure clear and clean water, as Frank also observes. "Last week we had a lot of water
and the filter was hardly dirty. Previously, after a week like this, they were very dirty. A clean filter is of course
important to be able to give the set amounts of water and to keep the right pressure on the drippers to avoid blockages.
prevent."
In conclusion, Dekker Glascultures is very pleased with the solution. "The ultrasonic transmitters offer me an environmentally friendly
way of disinfecting and reusing water throughout the process, without us having to maintain it."
Source: www.groentennieuws.nl
Click here to go to original article
Date of publication: 8 June 2021
For more information:
Ultramins
De Corantijn 87a
1689 AN Zwaag
+31 (0) 620 536 536
+31(0) 85 023 10 97
info@ultramins.com
www.ultramins.com