Field tests show USAF ultrasonic transmitters combat waterborne ToBRFV
PCR tests confirm this
Various tests have been performed in a greenhouse of Dutch tomate grower Ron Peters, commissioned by Luykx Ultrasound and Ultramins, in order to measure USAF ultrasonic transmitters' effects on the Tomato brown rugose fruit virus. The results show that these transmitters can control the waterborne virus very well.
People, equipment, and contaminated drainage water can infect tomato plants. "But," says Robert de Hoo with Ultramins, "there aren't yet any watertight solutions for virus-contaminated water."
The NWVA certified the Ron Peters to run trials with the dreaded ToBRF virus. The farm has been cultivating crops for over 45 years. Over the last eight years, the grower has become specialized in infecting all kinds of crops with various viruses, including the cucumber green mottle mosaic virus (CGMMV) and the ToBRFV.
Ron Peters has been doing several tests since the start of 2021. Those are on behalf of Luykx Ultrasound and Ultramins. They want to see how USAF ultrasonic transmitters affect the ToBRFV. Luykx Ultrasound manufactures these USAF ultrasonic transmitters. Ultramins is their sole distributor.
.
Practical tests
Different practical experiments were done. The plants were only watered, which excluded the possibility of mechanical contamination. The greenhouse was also sealed to keep insects and birds out. For these tests, highly contaminated water was used.
"A grower would never have these levels of ToBRFV is their cultivation water. We juiced 12 kilograms of contaminated tomatoes, leaves, and stems. We then kept adding that to 100 liters of water," says Ron.
The results are promising, he shares: "The plants that received untreated virus water showed signs of contamination within two to eight weeks. They visibly deteriorated. Those getting the water treated by the USAF ultrasonic transmitters showed no disease images at all. They grew beautifully."
Photo below: The USAF™ test set up at the Ron Peters testing ground.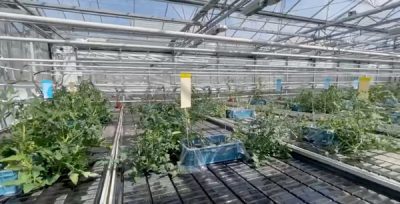 Ct-values
"Throughout the process, we took several leaf samples and carried out PCR testing on these. These results confirmed what we already suspected: Ct values were shown to significantly reduce, if not completely eliminate, the chance of decontamination. Even in this filthy water," continues Ron. "The lowest Ct value found was 30.68. Two tests were done per leaf sample. And not once were those below 32. I don't doubt that this USAF system works. It has major advantages over UV systems or a gas disinfector too. You don't have to maintain or monitor this system either."
Robert de Hoo owns Ultramins and is delighted with the findings. "The fact that using cultivation water to do something about reinfection is good news. We want to thank Ron again for his expertise, patience, and clear explanations. They were helpful, instructive trajectories." "Previous tests already proved that our USAF transmitters kill algae, biofilm, bacteria, and fungi. So it's great to know that we can also use cultivation water to combat ToBRFV and thus other viruses. we can do so in the same way and at the same time."
"We're always open to growers or grower associations who want to set up these new tests with us. Our USAF™ ultrasonic transmitters are easy to place in silos, wells, or basins. They require no maintenance, operate 24/7, are environmentally friendly, and operate at low costs," Robert concludes.
Ultramins will shortly make these ToBRFV rest reports available on request.
Source: www.groentennieuws.nl
Click here to go to the original message.
Publication date: 21 November 2021
For more information:
Ultramins
De Corantijn 87a
1689 AN Zwaag
+31 (0) 620 536 536
+31(0) 85 023 10 97
info@ultramins.com
www.ultramins.com