Controlling algae, bacteria and fungi with ultrasonic transmitters
Grower rid of Pythium in no time
USAF ultrasonic transmitters are excellent at combating algae, something that can actually be seen with the human eye. However, this does not apply to fungi, and even PCR tests of water samples only show whether the DNA of a fungus is present, and not whether the fungus is functional or not. To know for sure whether a fungus can affect a crop, microscopic examination is necessary.
Following a periodic inspection, Eurofins found a strong contamination with Pythium spp. in a 250m3 mixing silo. The silo in question contains fresh water and drain water.

From the Eurofins report in which the presence of the DNA of the fungi was mentioned.
In order to deal with this, USAF ultrasonic transmitters were installed in the mixing silo. This killed the Pythium moulds, but naturally the grower wanted to know for sure. Microscopic research at Eurofins did indeed show that the Pythium infestation present was rendered completely harmless, the DNA of the fungus found was no longer functional.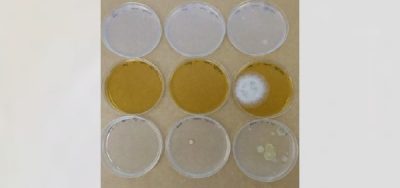 In total, the test at Eurofins lasted from August 2 to 24, and during this time there was also no trace of a possible other harmful fungus. Only 2 small fungal colonies were found on the plates (see image above). In both cases, after a new DNA test, this concerned the fungus Trichoderma spp. This fungus is often found during plating and it is likely that it was spread through the air. In addition, it is a harmless fungus.
Robert de Hoo, owner of Ultramins, is pleased with the findings. "This is obviously a great result and irrefutable proof that our USAF™ ultrasonic transmitters are very effective. A high concentration of a very harmful fungus can have disastrous consequences for a grower. Our transmitters not only control Pythium, but of course all types of fungi. We offer a sustainable alternative to chemical agents and other mechanical pest control equipment. Our ultrasonic control works 24 hours a day, 7 days a week and 365 days a year, requires no maintenance and provides optimal water. If there is an issue with micro-organisms in cultivation water, we would like to get in touch, and we usually solve the issue on a no cure no pay basis."
Source: www.groentennieuws.nl
Click here to go to the original article.
Date of publication: 26 August 2021
For more information:
Ultramins
De Corantijn 87a
1689 AN Zwaag
+31 (0) 620 536 536
+31(0) 85 023 10 97
info@ultramins.com
www.ultramins.com