Silo or tank transducer USAF 6 x 100 watt
USAF 6 x 100 watts
The USAF silo or tank transducer 6 x 100 watts is our strongest ultrasonic transmitter, it is recommended for the most polluted tanks, such as the drain tank. In addition, this transmitter can also be used effectively in the day supply tank, so you are assured of the best quality water in the greenhouse. Tests are currently underway with regard to ToMV and ToBRFV viruses, we expect that we can combat virus effectively with this transmitter, possibly in combination with a small dose of unstabilised hydrogen peroxide. It goes without saying that this transmitter destroys all algae, biofilm, bacteria, fungi, viruses, nematodes, and mites.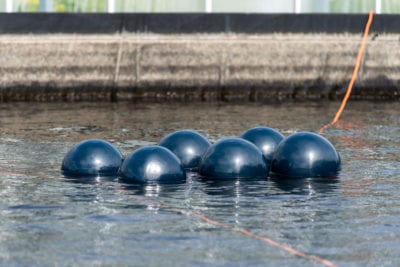 Advantages of Ultrasonic Transmitters:
Transmitters continuously combat algae throughout the basin, 24/7, 365 days a year
Transmitters not only combat algae, but also biofilm and even bacteria, fungi, viruses, mites, and nematodes in the vicinity of the transmitters are killed. (effect depends on the strength)
Environmentally friendly, because less or no more H2O2, sulfuric acid, or other agents are required.
The USAF transmitters are maintenance free
The size of the silo or tank does not matter, several transmitters can be placed.
Transmitters can never blow away, the transmitters float on buoys.
The effect does not decrease with time.
No additional (maintenance) costs.
Filters, pipes and immersion heaters are much less likely to clog.
Last but not least, the transmitters save time and money. How? We would be happy to explain this to you during a face-to-face meeting.
Would you like more information? Send us an email at info@ultramins.com or call us on +31 85 -0231097, we are happy to help you!